Space Gladiators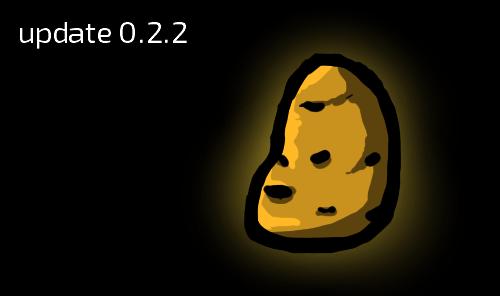 Apart from a couple balance changes, today's update is mostly focused on quality of life additions.
I have noticed that a lot of players did not know what the colors of the items were for. The game didn't make it clear enough and this update will hopefully fix that.
Colors are here to introduce a little strategical dimension to the game and to allow the player to customize his build.
Red abilities scale with your "Damage" stat.
Blue abilities scale with your "Energy Damage" stat.
Green abilities scale with your "Health Points" stat.
Yellow abilities scale with your "Armor" stat.
This means that some abilities are more or less efficient with your character depending on his stats.
You could choose to focus on increasing your Damage and using a Bow, or to play Patato and focus on maximizing your health points and throw meatballs around.
Passive items are also color coded to indicate which stat they affect. I have added the purple color for those that modify multiple stats, I'm hoping it won't be too confusing for new players.
Here is how the new item infobox looks: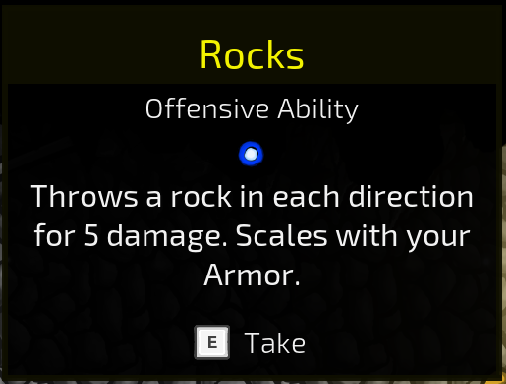 You can see the full changelog below:
Changelog
Lowered the chance of finding easy rooms after having cleared arenas.
The Piggy Bank item now gives out 3 coins everytime you clear a room (against 1 before).
Modified the design of items info boxes to emphasize their color.
Added a new settings option to mute audio when not focusing on the game window.
Added the purple color for items that modify multiple stats (instead of being white).
Added a tutorial prompt to show how to reroll the shops items.
Items that are part of shops and altars can no longer be moved by being hit.
A glitch where the dialog box appeared right at the start of the game should be fixed.
Some tweaks have been made to the tutorial to make it more intuitive.
Removed the "Give feedback" option and changed "Follow us" to redirect to our Twitter account.
Reworked items descriptions to be more clear.
Changed the image corresponding to "Select" for gamepads.
The interface presenting the opponents you can choose for arena fights has been tweaked a little bit.
Death screen now gives out tips.
Added Stats information for Health Points and Armor.
Follow me on Twitter for more regular information about the game!
There are some YouTubers who have recently posted some fantastic gameplay videos of the game, make sure to check them out:
A streamer named GrehgyHils is also currently playing through a list of 25 indie games amongst which Space Gladiators is!
The next session will be held at 6:30 PM Thursday, Mountain Time (MT) at the following link:
https://www.twitch.tv/grehgyhils
The game might be played there, or it might be in one of the next sessions. I personally won't be able to attend as it will be 2:30AM at my time (CEST) but make sure to be there if you're interested!
Finally, the website AlphaBetaGamer has written a great article about the game, which you can read here:
https://www.alphabetagamer.com/space-gladiators-escaping-tartarus-beta-demo/
Cheers!